The world is full of information, and it is not uncommon for rumors to circulate that persist and leave many questions unanswered. This is also the case with nuts. We want to clear this up! At regular intervals, we will answer questions here and provide you with clarity. Because nuts in general and activated nuts in particular are simply among the best that nature has to offer.
Today, we will focus on the topic of children and nuts. When can children start eating nuts? Should children eat nuts at all? Which nuts are the best for children? Well, are you curious? Let's go!
1) From when are children allowed to eat nuts?
Opinions differ here. Some recommendations say that children should only eat whole nuts from the age of 5, while others say from the age of 10. The reason for this is the danger that the nuts could get into the respiratory tract if swallowed. The German Association of Ear, Nose and Throat Doctors gives the following figures: 95% of all foreign bodies found in children are found in the bronchial tubes. And 99% of these are nuts.
So: the matter is relatively clear. No whole nuts for young children up to about school age! Of course, we at 2DiE4 also adhere to this recommendation.
2) Are nuts healthy for children?
Here the answer is quite clear: yes! Children benefit just as much as adults from the many healthy ingredients in nuts. High protein content, healthy unsaturated fatty acids, plenty of fibre, many minerals and vitamins... what more could you want? Parents' hearts beat faster. So much goodness in so little mass! Hardly any other food can compete with that.
3) Are activated nuts good for children?
Here there is a very clear YES!!! Of course, the advantages of activated nuts are unbeatable for children compared to raw or roasted nuts.
After all, the content of freely available minerals in activated nuts is significantly increased compared to raw nuts due to the process of activation (if you are interested in the details, feel free to have a look here: "What are activated nuts?" blog article)
In addition, the activation takes place under such gentle conditions that all healthy components such as unsaturated fatty acids, proteins and vitamins are preserved in activated nuts. This is the huge advantage of activated nuts compared to roasted nuts. The latter may have a great roasted aroma, but that's it. There is almost nothing left of many vitamins and the healthy unsaturated fatty acids are, in the worst case, converted into unhealthy trans fatty acids. No one wants these.
So, it's best to give ONLY activated nuts to your children! That way, you are doing something really good for them!
4) Which nuts are particularly healthy for children?
Once again, we can hardly make up our minds out of sheer enthusiasm! But one of the healthiest nuts is the walnut (if you want to know more, read our blog article on "Activated Walnuts"
We think: The main thing is activated nuts for the child. The variety is more of a secondary matter.
5) What should I do if my child does not like nuts?
Well, that's actually not so seldom the case.... You want to make the ultimate healthy and enjoyable food "nut" palatable to your child and the offspring disdains the fine food... too bad....
But we wouldn't be the nut pros at 2DiE4 if we didn't have an answer to that!
Ta-daaaaa: Why not try our legendary delicious Cacao Nut Butter! I don't know of a single nut butter that tastes anywhere near as good as this one. Honestly. I've tested practically ALL of them in search of an environmentally friendly, not overly sweet, and delicious nut butter.
Our nut butter contains very few but incredibly valuable ingredients: 3 types of activated nuts (hazelnuts, almonds, and pecans), coconut blossom sugar, raw cocoa, raw cocoa butter, vanilla, and a bit of sea salt. If you like, you can also get it in "crunchy," with activated chia seeds.
You see: no trace of palm or sunflower oil, no emulsifiers, no refined sugar. And the total sugar content in our cocoa nut butter is very low compared to other nut butters, at 20%.
So, our clear recommendation for young nut skeptics is our Cacao Nut Butter. But be warned: if the rest of the family discovers it, supplies might run low! It's best to order two jars right away because I'm sure you'll be delighted!
Aktivierte Bio
Tamari Almonds
1oog
8,90 €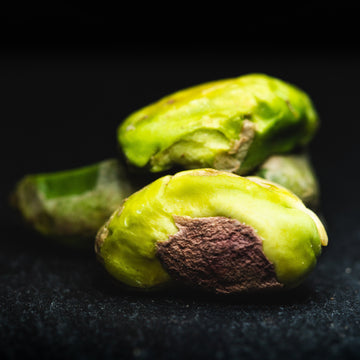 Activated Organic Pistachios
100g
11,90 €
Activated Organic
Nut Mix
100g
8,90 €